Note that this article is work in progress, at least now you know some more brands or bikes.
Kids specific bike brands: https://spawncycles.com/ https://www.clearybikes.com/
https://www.flowkidsbikes.com/
https://www.flowkidsbikes.com/
List of brands that make kids bikes too:
https://www.canyon.com/en-gb/kids-bikes/ https://www.konaworld.com/platform_kids.cfm
https://www.propain-bikes.com/en/bikes/kids/ https://mondraker.com/es/es/kids
https://www.bikeradar.com/news/yt-and-nukeproof-kids-mountain-bikes/
For reviews of kids bikes you should check out https://rascalrides.com/
These bikes are in no particular order.
If any of you have found more bikes or child specific stuff, be so kind to comment below to share with us.
I have no experience with these bikes, So I will say my opinion, and my experiences with the components used,I will not decide for you.
This article will be update when I find more good bikes
order and title of article might change but I publish this right ow so you can see it, sorry if there are mistakes and typos.
there are few kids bike brands that make good bikes for kids,and there are even fewer adult bike brands that make kids good kids bikes,and there are not many kids brand that make good kids bikes for 24 and 20 inch wheel size.
Some facts:
Kids should have as safe,light,strong,and as well performing bikes as adults.
for the kids to enjoy riding the bikes for a long time the bikes must be light.
Fit is very important,Adjustable reach for brake levers, right crank arm length,saddle that fit kids,I have seen kids riding on saddles that are painful to sit on,the shape of the saddle the length of the saddle the height/depth of it,Its all very important,a flexible saddle is a must In my opinion for optimal comfort.
When you want to buy a bike please ignore the silly marketing tricks, like using using A celebrity or pro riders name, or a company's name..
this is a good example of what I mean: Hyper Cam Zink Edition is a good example:http://www.pinkbike.com/news/Hyper-Cam-Zink-Edition-Now-Available-at-Walmart.html
I see many kids got awful bikes, and jump and ride downstairs jump off walls, and they do it on awful and dangerous bikes. the kids I saw ridden like Seth does in this video.
Shame so many kids ride on bikes that is junk,and they don't know how dangerous it is,and the parents got no clue.
but in this guide I will show some the best kids bike I have found on the internet.(custom builds only commercial products will be listed here)
In my opinion bikes like these should be illegal to sell, but sadly they are not.
And then there are the fake dirt jump bikes that are marketed as bikes that can withstand abuse. which they can't do at all, bikes with Sr Suntour xct and xcm forks,the plastic adjustment, pops out, flexing, knocking sounds, or almost no rebound, depending on the model.
Some bikes have warning stickers on that say the opposite of what the ad say.
I see many kids got awful bikes, and jump and ride downstairs jump off walls, and they do it on awful and dangerous bikes. the kids I saw ridden like Seth does in this video.
If you are a beginner and want to do advanced riding I you need to subscribe to this channel.
Most of the worldwide big bicycles brands, only make cheap awful bikes for the kids, or really basic hardtails.
Many of the Kids MTB guides, are misleading, many of the bikes got awful components.
Many of the kids bikes I have seen are absolutely awful junk.
Almost everything is wrong with these 100 dollar bikes.
Just some of the things that are wrong with them:
they are very heavy,a too heavy bike can be dangerous, the bike was glued to the ground I could no jump it.
suspension that does not do the job,the most common fork on these cheap bikes are ZOOM.
mechanical disk brakes that are hard to brake with for kids.
saddles that is torture to sit on.
tyres with no grip
Example of kids bikes that are marketed as mountain bikes, but they are to they are garbage, they are not made for Drop-Offs and jumps, and shredding in the woods.
There are many choices on the market right now,
but If you want the best speed bike without spending too much I recommend buying from Direct Sale brands.
This video shows me jumping a 24 inch fat bike that is way too heavy:
The List:
Here are some real mountain bikes for kids. all from XC to freeride,downhill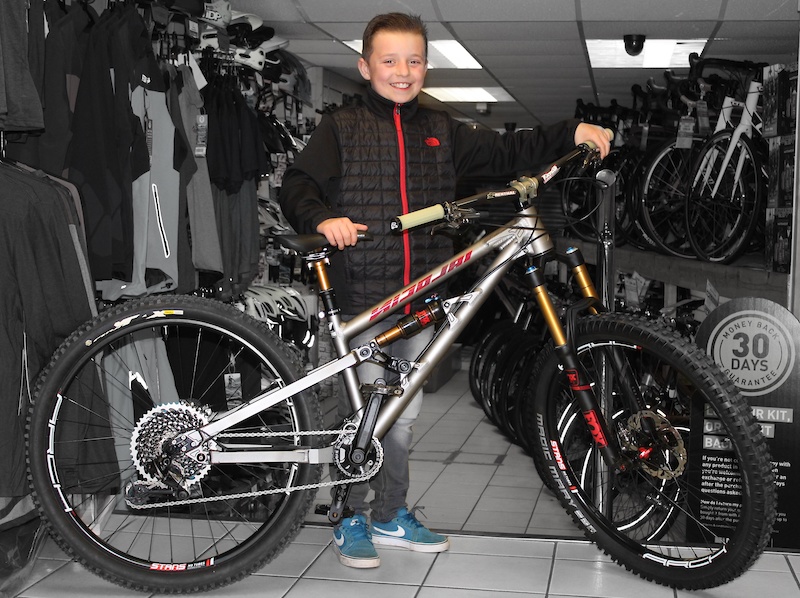 https://www.pinkbike.com/news/nicolai-mojo-to-produce-geometron-kids-bikes-2017.html
modern geometry, long reach,long chain stays, long wheelbase, stable.
freeride,downhill,trail
Full suspension 26er trail bikes:
10 speed 1 by drive trail with shimano Deore shadow plus, and Rock Shox fork & shock & hydraulic mineral oil disk brakes from shimano. I think this is a nice package,but a chain guide would be nice
2016 Trek Fuel EX Jr
$1,889.99
So far this is the only high -end bike for kids from Ttrek.
X-Fusion Performance Suspension is tuned for lighter riders
10×2 setup makes sure that the kid got all the gear range he or she needs. the bike got Deore shifters which are lighter to push than the Deore XT M8000, so shifting should not be an issue for kids, but it would be nice if the bike had 1x drivetrain, for reduced weight and simplicity. the bike lacks a dropper post, so you will have to get one if you go for this ibke. the adult size bike has issues with hte linkages, the bearings dislocate, chainstays wear out, rocker ink cracks, but I have no experience with the kid's bike, but it might not be an issue.
The bike has decent seat tube angle so you shoudl be able to put the tip of the saddle over the bottom bracket for good pedalling.http://www.trekbikes.com/us/en_US/bikes/mountain-bikes/trail-mountain-bikes/fuel-ex-jr/fuel-ex-jr/p/1530000-2016
http://spawncycles.com/bikes/spawn-cycles-rokkusuta-24-us
http://spawncycles.com/bikes/spawn-cycles-rokkusuta-20-us
Hardtails
Trailcraft Titanium Pineridge 24
16 inch and below:
The saddle is in child's size,
Cnoc 16 Pro Series Age 4+ / £799.99
Dirt jump bikes:
Kotori – 24″
this is a dirt jump bike with decent specs, but it got no front brake so it's not street legal,at least not in Norway.Fyoutub
https://www.pinkbike.com/news/canyon-launches-range-of-childrens-bikes-2017.html

https://www.norco.com/bikes/youth/
Prevelo bikes:
They make balance bikes, 16, 20, 24 inch wheeled bikes. the bikes are light weight, have short cranks. With head angle of 67, the head angle is nto too far off from what most trail bikes for adults are, but not as slack as the slackest bikes out there. the seat tube angle at 74 is not too crazy slack.
But they don't offer any full suspension bikes yet.